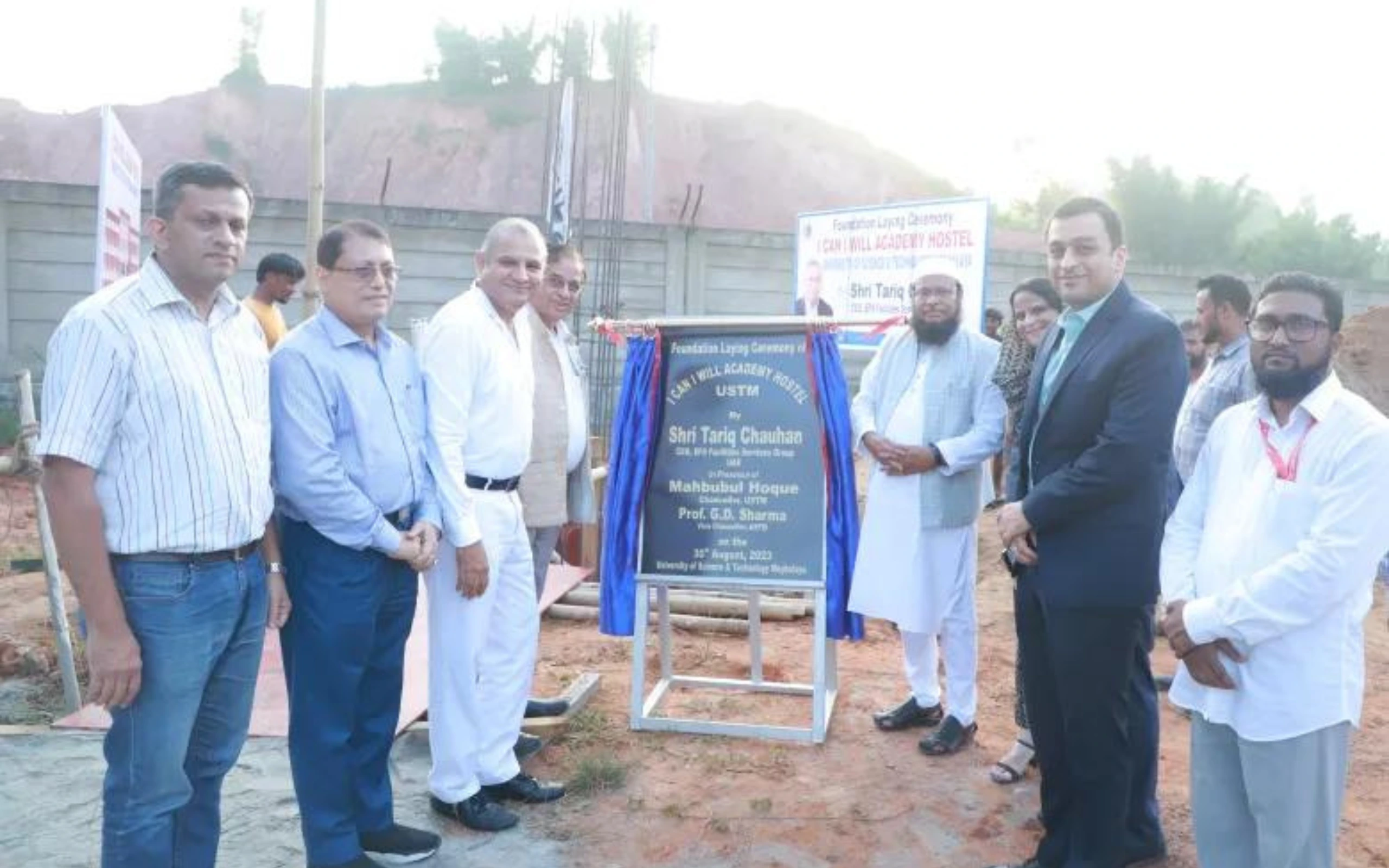 Guwahati, August 30: "We are going to be a part of your life in USTM. EFS is bringing a Centre of Excellence called "Upskill" and is going to start nine different certification courses with specialized criteria depending on your choice.
This was stated by Tariq Chauhan, a Harvard Business School alumnus and CEO, EFS Facilities Services Group, UAE as he was addressing a large gathering of students today at the Central Auditorium of the University of Science and Technology Meghalaya (USTM).
The author of the book "If Mr Tariq Can, I Can", Chauhan delivered a highly motivating and insightful speech on the Importance of Skill for Career. He also laid the foundation of the hostel of "I Can I Will Academy" for the specially-abled at USTM today.
Addressing the enthusiastic students, Tariq Chauhan said, "We will give you placement opportunities abroad for those who are looking for direct placement. As a part of this initiative, with immediate effect, we are starting the first level of placement in the technical services recruiting students from USTM. In addition to that, we will also conduct different stages of career counselling."
It may be mentioned here that Tariq Chauhan will be awarded Honorary D.Litt. in the 9th Convocation of the USTM which will be held tomorrow.
Appreciating the University, Chauhan said, "I have been to some of the finest universities of the world – from Harvard to Frankfurt to AMU. I would say that very rarely I have seen that kind of commitment and that kind of conviction that I saw in the last few hours after visiting USTM".
Urging the students to identify, map and measure their strengths, Chauhan said, "Short, medium and long-term goals are very important. Goals must be aligned with milestones. One should have defined development goals for personal, professional and functional development. No goal can be accomplished without a defined milestone". He said that India is possibly the highest growing economy now. Investment in infrastructure in India is going to be exponential.
"There are indeed great opportunities in your way. But only those who have prepared well in advance can grab those opportunities. College students can gather work experience during their graduation by engaging themselves professionally in projects of their interests, study and dissertation, and practical activities", he added.
Tariq Chauhan has been the Group CEO and Co-founder of EFS since 2009. The company designs, manages, and executes facilities management services in 21 countries through 28 operating companies and employs 27,000 people across the globe. He is a professional entrepreneur, with over 26 years of diverse experience in international banking, technology and asset management, real estate and a track record of building and establishing companies across the GCC, USA, UK and Asia. He has led the evolution of EFS Facilities Services' business portfolio and spearheaded the company's expansion into 23 markets across MENA, Turkey and South Asia.
Source: The Shillong Times