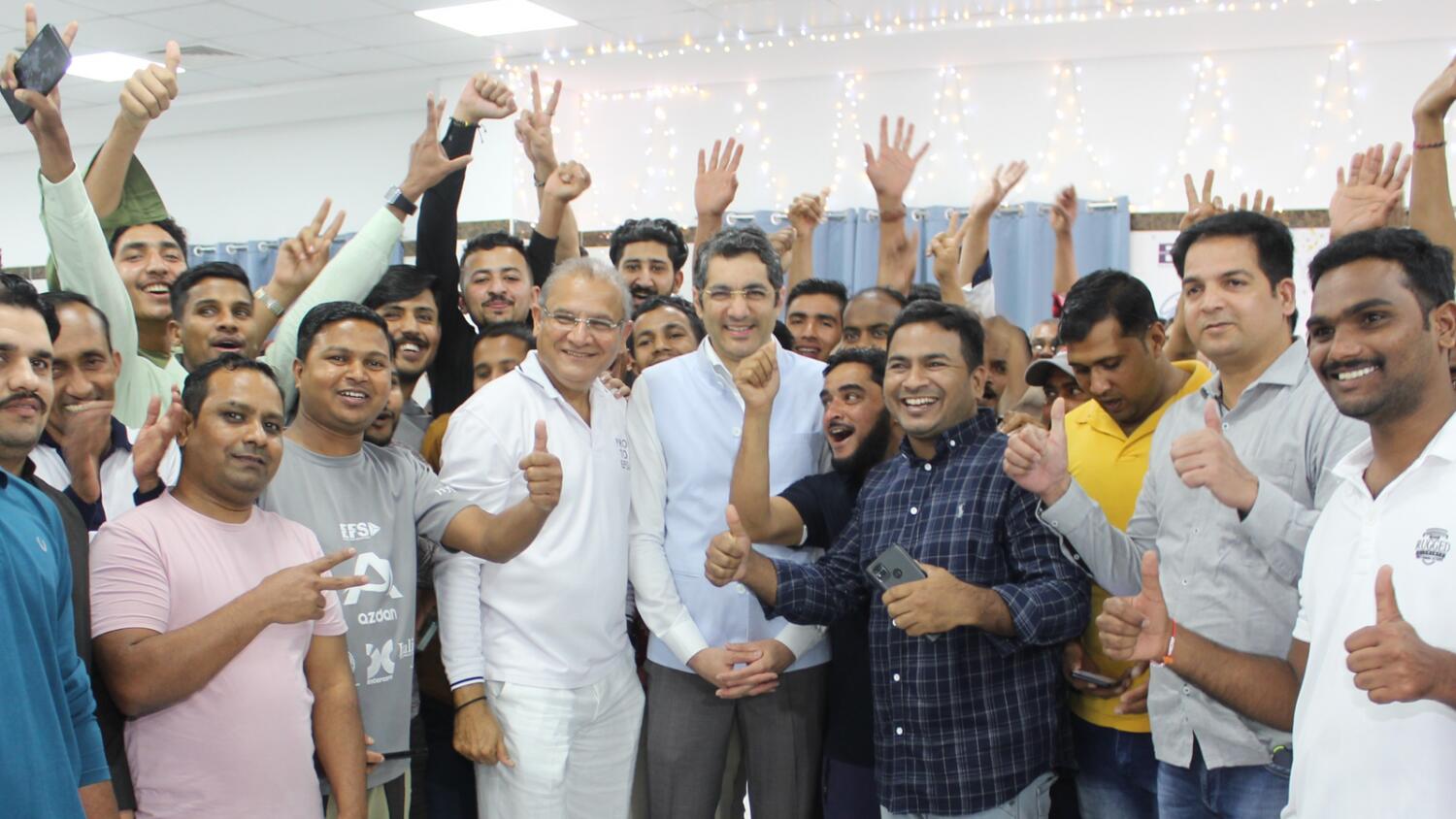 EFS Group, a renowned facilities management company with a contract backlog of $2 billion, celebrated International Workers' Day 2023 in a truly memorable fashion, further reaffirming its commitment to its People-First Approach.
The company hosted a one-of-kind Gala Dinner for its frontline workers in the UAE, with similar celebrations held across EFS offices in other countries. Chief Guest H.E. Dr. Aman Puri, the Consul General of India in Dubai & Northern Emirates, attended the celebration in Jebel Ali alongside Mr. Tariq Chauhan, EFS Group CEO and his team for an evening of camaraderie and festivities.
EFS employees seized the opportunity to express their gratitude to the heroic frontline workforce for their unyielding efforts, by organizing a special event where they prepared and served home-cooked meals at the worker accommodations. The evening was further enhanced by a live musical performance and an painting exhibition of talents from EFS' frontline workers, all culminating in a glamorous Gala Dinner.
Commenting on this initiative, H.E. Dr. Aman Puri, the Consul General of India in Dubai & Northern Emirates, said: "Happy International Workers' Day! It is an honor to be part of the May Day Gala Dinner to celebrate and recognize the workers of every field. The world runs on your contributions. The dedication and tireless efforts of the workers are the backbone of not only EFS but of our community as a whole. On this occasion, on behalf of the Consulate General of India, I pay my tribute and respect to all workers, and I am also delighted to have been able to interact with them."
Kicked off with stunning musical performances, an illuminating speech by Mr. Tariq Chauhan followed: "This gesture of EFS is a beautiful way to celebrate May Day and show appreciation for our front-line workforce. Having the food cooked by EFSians and their families adds a personal touch and creates a sense of family spirit within the company. Recognising and prioritising worker wellbeing is always essential; this goes above and beyond to show that appreciation. It promotes a positive company reinstating our People First and Family slogan, which is integral to this focus. Being a lean organisation with an eye on true impact, we shall be able to weave all the emotions of our front-line workers and rekindle the passions of EFsians to support the cause of worker wellbeing."
The EFS Group's people-first approach and dedication to upholding core values has resulted in an impressive 97% client retention rate over the past five years and earned numerous recognitions, including the Taqdeer and Sheikh Khalifa Excellence Awards for best practices. The group was also recognised for CSR practices in the workplace by the Dubai Chamber of Commerce.
Source: Construction Business News Middle East