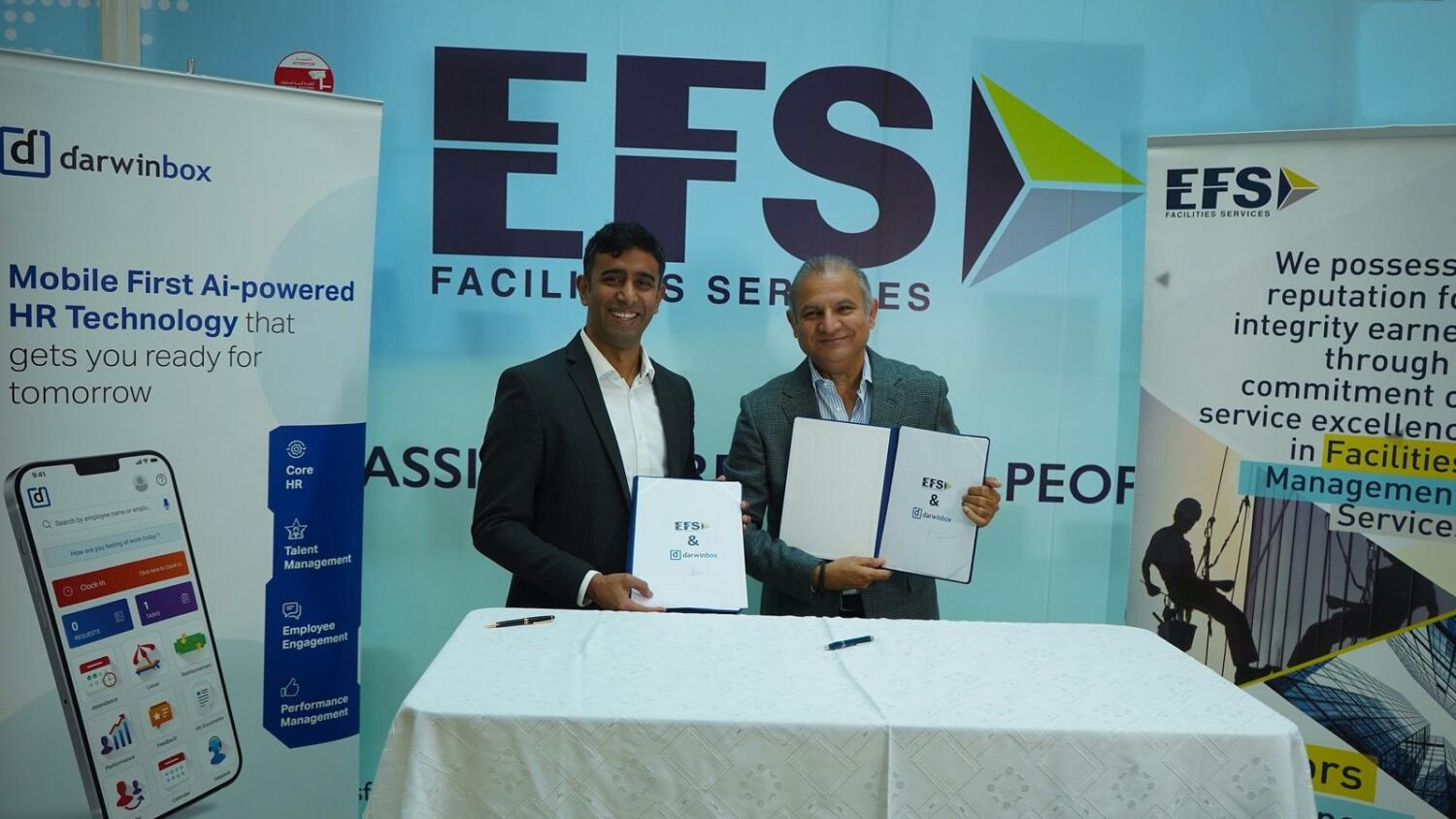 Move will help elevate employee experience for its 25,000 global workforce.
EFS Group, a renowned facility management company with a contract backlog of Dh6 billion providing services across 22 countries, has announced a strategic partnership with Darwinbox, the fastest-growing HR technology unicorn. This partnership solidifies EFS Group's commitment to its people-first approach and aims to enhance the employee experience across its diverse current workforce of over 25,000 employees from 40+ nationalities using industry-leading HR tech solutions by Darwinbox.
The collaboration with Darwinbox will enable EFS Group to leverage new-age Human Capital Management (HCM) solutions to automate HR processes and simplify human engagements for an impactful employee experience. Darwinbox will implement people-first technology solutions at EFS Group that cover hiring, leave and attendance, performance management, learning, and multi-country payroll.
Darwinbox's HCM platform, recognized on the 2022 Gartner Magic Quadrant for Cloud HCM Suites for 1,000+ Employee Enterprises, will be implemented across the EFS Group with a projection to cover over 100,000 staff members in the next five years.
Tariq Chauhan, Group CEO and Board member, EFS Group, stated, "Our people-first approach is at the core of our business. We invest in hiring the most talented resources, providing equal opportunities, and focusing on ethical practices for our workforce. This partnership with Darwinbox will empower our employees to continue our focus on excellence by offering innovative HCM solutions to support their growth, development, and impeccable employment journey."
Jayant Paleti, Co-founder, Darwinbox, added, "We are thrilled to partner with EFS Group and support their mission to create a people-centric workplace while introducing the future of work. Our HCM solution is designed to empower organizations like EFS Group to drive employee engagement, performance, and satisfaction.
Together, we will foster a culture of strong employee experience with the power of technology, ensuring EFS Group remains at the forefront of the facility management industry."
The EFS Group's people-first approach has over the past five years earned numerous recognitions, including the Taqdeer and Sheikh Khalifa Excellence awards for best practices. With this partnership, EFS Group reaffirms its pledge to its employees and its dedication to integrating innovative technology into its operations, ensuring long-term sustainability and enhanced employee experiences.
Darwinbox's cloud-based HCM platform caters to HR needs across the entire employee lifecycle with new-age employee experiences and disruptive AI-powered technology. Powering 800+ enterprises and 2.5 million employees across the globe, the company has clocked a 2.6x revenue growth and increased its headcount by 240% in MENA since its Series D Unicorn funding round in January 2022. The company recently opened its new office at Dubai International Financial Centre (DIFC).
Source: Khaleej Times